An unofficial site for Lost Prophets fans.

This site is designed in order to give fans up to date information ahead of the official site.
---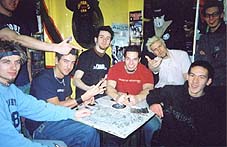 Me with the prophets!
---
New picture
Live at the Borderline 24/02/01. MP3s from this show are up on the sounds page.
---
Get Prophets on the radio
Please try and get the Prophets on the radio! Do this by e-mailing requests to the Radio 1 rock show and the Xfm rock show:

Radio 1: mary.anne.hobbs@bbc.co.uk
Xfm: ian.camfield@xfm.co.uk
---
If you have any suggestions for this site, or if you have any more information concerning the lost prophets or bands that should be included then tell me so I can keep this site as up to date as possible.
E-mail me

Here is a quote to prove just how much the prophets mean to some people (by the way it's not me):

"HEY GUYS, I WAS AT THE BIRMINGHAM ACADEMY GIG AND I WAS WATCHING YOUR SET AND I CAME IN MY PANTS. SORRY. I WAS SO OVERCOME WITH PROPHETMANIA (KEEP NOTE OF THAT GUYS) THAT I SHOT MY SHIT. I WENT OUTSIDE AFTERWARDS AND PURCHASED A CD, WENT HOME AND LISTENED, AND I CAME AGAIN IN FACT I CAME 16 TIMES."
site content/webmaster Simon Lee
site design © 2001 Jasmine Worth