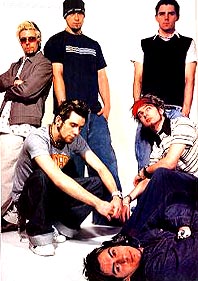 Jamie, Mike C, Stuart
Mike L, Lee
Ian
On Oct 8th the FSOP was re-released repropduced by Michael Barbiero of metallica and cypress hill.

Over the last few months Lost Prophets have increased in fame rapidly, they have had many features and reviews in places such as metalhammer and kerrang!. They have gone from supporting Linea 77 to supporting one of the biggest nu-metal sensations Linkin Park. Things are also looking very promising in America too. It's all good so far, Lost Prophets are just about to hit it big time. Good luck to them!

Lostprophets were formed in late '97 by a collective of friends sick of not hearing what they wanted in the modern alternative music scene. Some were permanent members; some played whenever they felt like it, all were from varied musical backgrounds.
Three demos have been recorded since. The first in '97 gained a 10/10 review in 'Metal Hammer' with the reviewer commenting that the band should be signed immediately. The second recorded early '98 was more experimental and never released. The third and most recent was recorded intermittently throughout 1999. The band have played a countlessnumber of sell out shows around the U.K. including 'Kerrang magazine' sponsored nights.

Various extra members have come and gone, but the key five have always remained. The band is now made up of six members. Over the past two years our sound has progressed and focused into what you are hearing today, a sound that fuses together each of the bands members influences, from metal to post-hardcore to hip hop, from Perry Como to breakbeat to emo, from blah blah blah. Up until now the band has taken a low profile, prefering to fine tune the sound and concentrate on other projects. After taking a few months break to help members complete university studies and to travel, the band is now more focused than ever.

We've got mad heads on our shoulders so fuck knows what happens next.....
Line up:
Vocals - Ian Watkins
Bass - Stuart Richardson
Guitar - Lee Gaze
Guitar - Mike Lewis
Turntables/Sampler/Keys - Jamie Oliver
Drums - Mike Chiplin